Go straight to our new "Oh" collection and browse away or continue reading.
We, aka the kauskaki sisters, started this surf microbrand project back in Christmas 2012, when one of us got a new surfboard and the other a sewing machine, courtesy of Santa. So we thought we'd make a tailormade surfboard sock!
The thing is, we have hardly ever been in the same country or timezone since. But still, we continued on this rather unlikely journey. We planned surftrips ("business trips"), where we would spend time together at the source to develop kauskaki whilst sharing waves. 
We have been wanting to take our designs to the next level by introducing our own prints for some time now and the time finally came to work on it. But this time, life got in the way meaning we were nine hours and 12,000 km apart. 
Our foray into globalisation meant that our customers could enjoy our ultra responsive 24/7 customer service, whilst we were creating communication connections between the past and the future.
For two months, following an initial week-long heavy duty planning session in our hometown, Athens, we have been exchanging ideas and designing this special collection across the globe. Most of our calls would start and/or end with one of us saying "what time is it there again?".
The cherished shared memories we collected over the years when travelling and surfing together have been the core inspiration for the prints and overall collection. From our #BigAssSouthAfricaRoadtrip2015 between Cape Town and Durban to our time spent in Dakar, Senegal and the most recent experience of the more obvious destination, Bali, we had stacks of them. We literally emptied virtual shoeboxes of memorabilia on the floor and kept digging through them till we pulled out the absolute highlights and created our Rond-Oh-Well, Oh Mangod and Volcan-Oh prints respectively.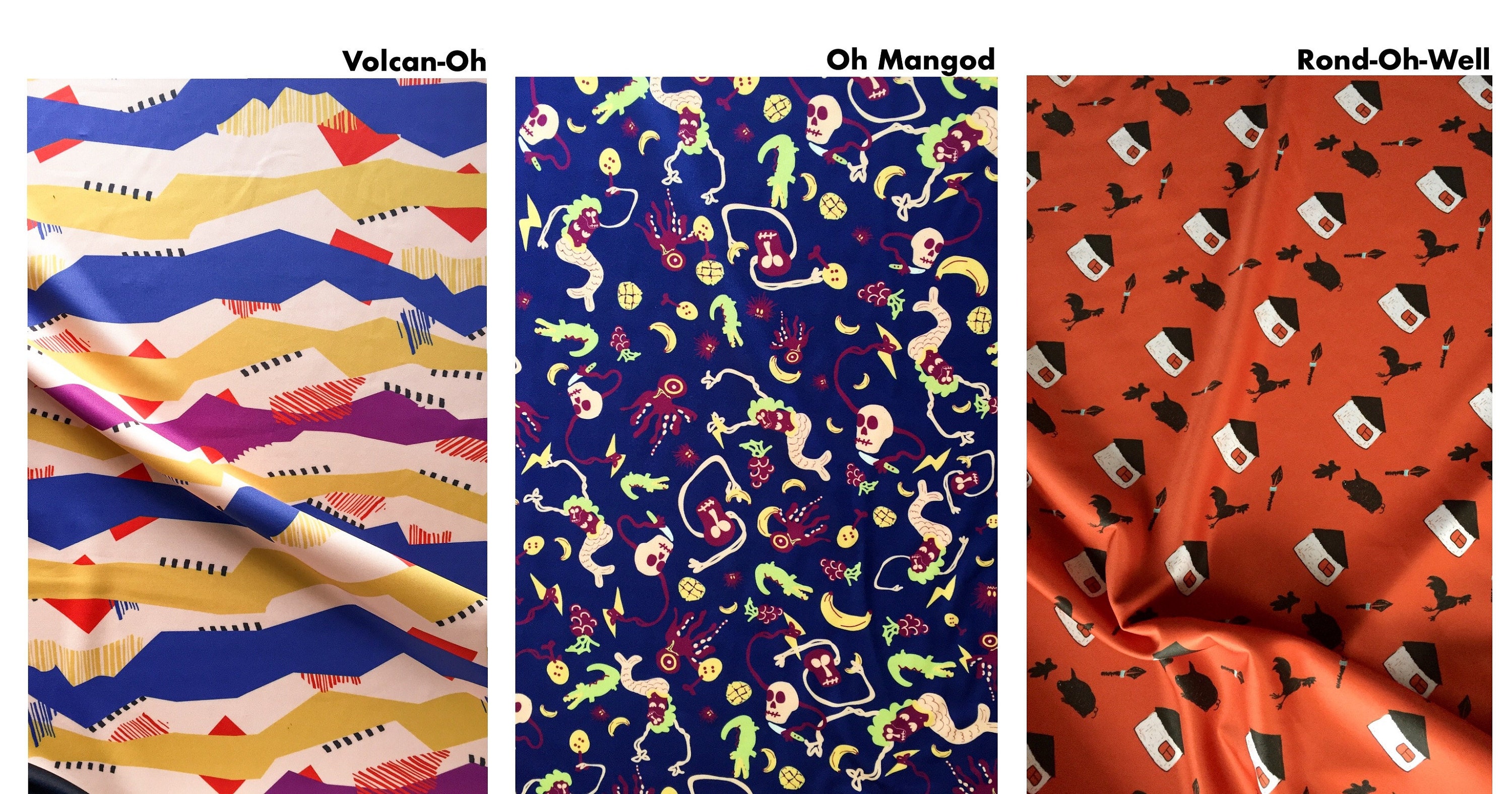 So each element of the prints has a story behind it and every story a special place in our hearts. All the drop-ins, the wipe-outs, the accidental or deliberate party waves, the sea urchin encounters and sharp reef 'hellos', the fruitful or fruitless surf missions, the mango overdose near-misses, the rondavels and rondavel-inspired tattoo series, the pigs sleeping with stuffed animals, the jaw-dropping sunrises and sunsets (the ones we didn't somehow miss that is), a volcano hike for nothing but a boiled egg and a damn good laugh, a couple of less than normal hitch-hikers, a series of epic fails and parodies including a pink (yet grey-brownish out of season) lake we never got to; and all this topped up by a bunch of awesome coincidences. Oh, and the one random thing that was consistent across all of our trips, and beyond: the chicken guest star appearances. Even during a recent urban photoshoot for the collection, one found its way to us for a fly-through photobomb. Thanks for spicing things up guys! 
And then there is the B-side track to this music cassette. None other than the Oh Snap aka Pink Lake and #feedyourcrocodile playful illustration by our close friend Stefanos Andreadis. This print acts as a multi-layer collage reminder of all those summers we have spent together on the Greek islands no tropical destination can beat; with the occasional windswell pulling us to a scattered busy lineup of good old and soon-to-be friends. The background colour is a whole other story that will always make us giggle.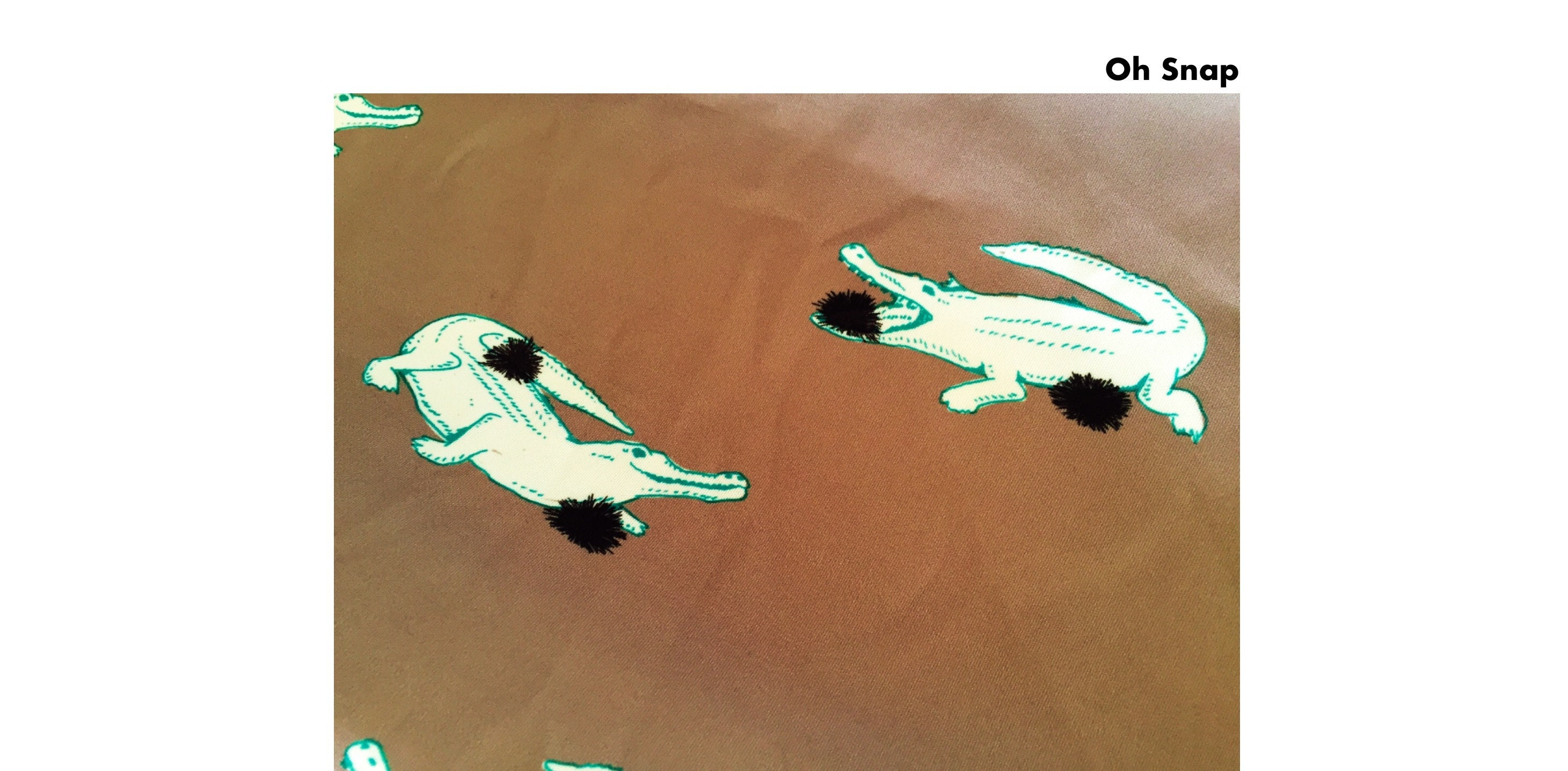 We also wanted to have more of our kauskaki friends truly immerse into our journeys through our exclusive prints. And that is why we created a limited edition of 31 winter playsuits (sorry boys!), matching our surfboard socks, so you can dress up in kauskaki as well as your board.
Quite clearly, our AW17-18 collection is full of firsts and is special in so many ways for us. And the one sure thing is, there will never be another one like it.
Check out the entire collection here Oh, Surfboard Socks and Oh, Playsuits or grab the surfboard sock + playsuit bundle before it's too late and get all boardsock add-ons on the house...
Hope you enjoy every bit of it as much as we did and lose yourself in that perfect hug feeling we have been tirelessly working to bring to you since 2012.
Wet hugs,
Maribel & Savina